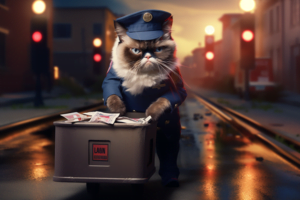 As we move into the digital age, security and data protection in electoral processes, particularly in voting by mail, become essential to maintain confidence in our democratic system.
Recently, concerns have been raised about the vulnerability of vote-by-mail to potential cyberattacks and cybersecurity issues. In addition to the lack of confidence in the system and the chain of custody of voting by mail, there are other risks that have not been widely addressed, such as those related to cybersecurity, connectivity and communications in electoral processes.
Remote voting through vote-by-mail presents challenges in terms of cybersecurity. Cybercriminals can see it as a gateway to influence election results by manipulating electronic data transmission and ballots.
Phishing and phishing attacks are additional concerns for voters participating in elections by mail, as they may receive bogus emails attempting to obtain personal information or voting addresses.
In addition, the handling and alteration of ballots during transport can compromise the integrity of the election results. This raises questions about the chain of custody of Correos and the protection of the personal data of voters.
The cybersecurity of the electoral infrastructure is also crucial to guarantee fair elections and free from interference. Voting systems and online services associated with voting by mail may be exposed to cyberattacks that must be effectively addressed.
Recently, a personal experience illustrated the risks associated with voting by mail and cybersecurity. After carrying out the procedures to request a vote by mail with a certificate issued by the AC FNMT, a suspicious email was received that seemed to be related to the process. These situations highlight the importance of protecting the integrity of the electoral process and the personal data of voters.
It is essential to implement strong cybersecurity measures, such as data authentication and encryption, as well as promote awareness of safe voting-by-mail practices. In addition, the National Institute of Cybersecurity in Spain (Incibe) plays a crucial role in the coordination and management of possible cyber incidents during the electoral process.
In conclusion, while voting by mail is an increasingly popular and convenient option, we must seriously address the challenges of cybersecurity to preserve the integrity of our democracies. Guaranteeing confidence in the democratic system is fundamental and requires the collaboration of institutions and citizens to protect our electoral rights in the digital age.